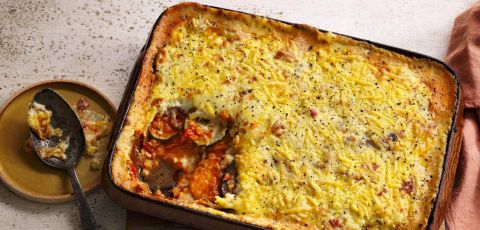 Preparation Time: 30 Minutes
Cooking Time: 30 Minutes - 1 Hour
Serves: 4
Ingredients:
4 tbsp olive oil, plus extra for greasing
1 small aubergine, cut into 1cm slices
1 large courgette, cut into 1cm slices
2 sweet potatoes, peeled and cut into 1cm slices
1 onion, finely chopped
150g chestnut mushrooms, roughly chopped
2 garlic cloves, crushed
75g red lentils
400g tin of chopped tomatoes
2 tbsp tomato purée
½ tsp dried mint
½ tsp ground cinnamon
1 vegan vegetable stock cube
Salt and freshly ground black pepper
40g plain flour
400ml unsweetened almond milk
2 tbsp nutritional yeast flakes
1 bay leaf
¼ tsp ground nutmeg
75g vegan cheese, for melting
Method:
Preheat the oven to 220°C/200°C Fan/Gas 7. Use a tablespoon of the oil to generously grease a large baking tray. Place the sliced aubergine and courgette in a single layer on the tray and brush with a tablespoon more oil. Season with ground black pepper. Roast in the oven for 10–12 minutes, or until softened and lightly browned.

Fill a medium saucepan two-thirds full with water and bring to the boil. Add the sweet potato slices and return to the boil. Cook for 3–4 minutes, or until just tender. Drain in a colander and set aside.

Heat the remaining 2 tablespoons of olive oil in a large, non-stick saucepan and fry the onion and mushroom over a high heat for 3–4 minutes, or until softened and beginning to brown, stirring. Add the garlic and cook for a few seconds more.

Stir in the red lentils, tomatoes, tomato purée, mint, cinnamon, and crumbled stock cube. Refill the tomato tin with water (around 400ml/14fl oz) and pour it into the pan. Stir well, bring to a simmer and cook for 12–15 minutes, or until the lentils are tender and the sauce is thick, stirring regularly.

While the vegetables are simmering, make the white sauce. Put the flour, almond milk, yeast, bay leaf and nutmeg in a medium saucepan and season well with salt and pepper.

Bring to a simmer, whisking constantly with a metal whisk over a moderate heat for 4–5 minutes, or until smooth and thickened. (Use a silicone-covered whisk if using a non-stick saucepan.) Add the vegan 'mozzarella' and cook for 1–2 minutes more, stirring. Adjust the seasoning to taste.

Arrange the sliced potatoes over the base of a well-oiled 1.25 litre/2 pint baking dish (a lasagne dish is ideal). Spread with half of the lentil mixture. Top with the aubergine and courgette slices, then add the rest of the lentil mixture, spreading to the sides of the dish.

Remove the bay leaf from the white sauce and pour the sauce over the lentils and veg.

Bake for 20–25 minutes, or until the topping is lightly browned and bubbling. Stand for 5–10 minutes before cutting to allow the filling to settle. Serve.
Credit: Justine Pattison