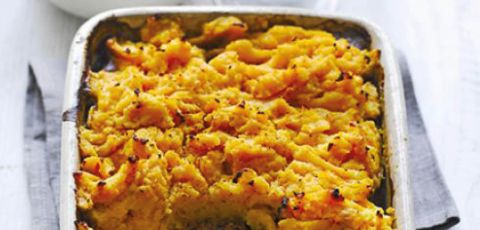 Sweet Potato Shepherd's Pie
4 min read
Swap mashed potato for vibrant sweet potato and bulk out your lean lamb or beef mince with red lentils for a slimmer take on this comforting classic.
Preparation Time: 25 Minutes
Cooking Time: 1 Hour 20 Minutes
Serves: 6
Ingredients:
1 tbsp rapeseed oil
2 onions, finely chopped
2 garlic cloves, finely chopped
2 carrots, grated
2 tbsp fresh thyme leaf
400g extra-lean minced lamb or beef
85g red lentil
350g swede, diced
2 tbsp plain flour
750ml reduced-salt beef stock
200ml red wine
250g potato, diced
650g sweet potato, diced
150g 0% plain probiotic yoghurt
A generous grating of nutmeg
Method:
Heat the oil in a large pan, then fry the onions for 6 mins until starting to turn golden. Add the garlic, carrots, and thyme, and cook for 4 mins more. Stir in the mince, breaking it up with the spoon. When it has turned brown, add the lentils and swede with the flour. Cook for 1-2 mins, then gradually add the stock and red wine. Cover and simmer for 35-40 mins.

Meanwhile, boil all the potatoes for 15-20 mins until tender, then drain and mash with the yogurt, nutmeg, and black pepper. Spoon the meat mixture into a 2-litre ovenproof dish, spread or pipe the potato mixture on top, then grill until the topping starts to brown. (If making ahead, reheat in the oven at 180°C/16°0C fan/gas 4 for 45 mins.) Serve with green veg, such as peas and broccoli.
Credit: Sara Buenfeld